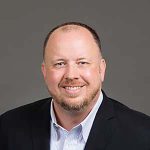 Sidney A. Hall
President
Sid was born in Abilene, Texas and raised in the Houston area. He was trained as an Arabic linguist in the United States Air Force and served as a Staff Sergeant in the 694th Intelligence Group, 22nd Intelligence Squadron at Fort Meade, Maryland.
After leaving the service, Sid began a new career as a civilian IT consultant for a number of organizations in the Department of Defense, focusing on the Intelligence Community. Sid has fifteen years of experience as an IT consultant, and has worked for several companies including Pulse Engineering, Titan, Compaq, and Hewlett-Packard.
Sid spent nine years at ClearShark. His career with ClearShark began as a senior consultant specializing in fibre channel storage area networking, enterprise class storage systems, and enterprise scale file services. Throughout his career, Sid has deployed thousands of fibre channel ports, petabytes of SAN-attached enterprise-class storage, and petabytes of file services capacity. He holds technical certifications from Brocade, NetApp, VMware, and the Microsoft Corporation, as well as a Bachelor of Science in Information Technology.
In 2014, ClearShark and Critical Resouces Group merged their professional services divisions into a single new entity, Fuse Engineeing, LLC. Sid now serves as the President of Fuse. In addition to his executive duties, he continues to work part-time as a storage system architect, helping customers to enhance and modernize their storage infrastructures.
Sid enjoys yelling at the screen while his Houston Texans lose – again. He also enjoys travel, sailing, watching old movies (with the real boss, Angela), reading science fiction, playing video games, and torturing his guitar.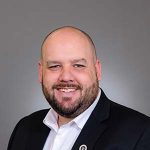 Thomas Gain
Vice President, Operations
Tommy was born and raised in Cape May County, NJ. He joined the U.S. Navy Delayed entry program in November, 1999 at 16 years old, spending weekends each month for nearly 18 Months learning about the US Navy Customs and Traditions. In September of 2001 he began his training as a Cryptologic Technician Operator (CTO), stationed at Naval Security Group Activity, Fort George G. Meade. During his enlistment Tommy was selected as one of the first US Navy Sailors to cross-rate to the Cryptologic Technician Networks (CTN) rating and coveting the honor of being a Plank Owner of the CTN Rating.
After leaving Naval Service, Tommy began a new career as a Government Civilian supporting the Department of Defense specializing in Defense Message Systems. With 9-5 desk life proving to be unfulfilling, a failed try out attempt with the Baltimore Orioles as a pitcher (True Story), Tommy deployed as a contractor to the US Central Command Baghdad, Iraq as a Cryptologic Authority Administrator, and one year deployed to Kandahar Intelligence Fusion Cell Defense Intelligence Agency Kandahar, Afghanistan working as a System Engineer and General Dynamics Site Lead.
From 2012 – 2016 Tommy spent his time supporting the Asymmetric Warfare Group and National Security Agency supporting contracting companies in progressivley more challenging positions such as a System Engineer, Task Lead, and Director of Operations. In 2017 Tommy joined Fuse Engineering as a Systems Engineer and progressively increasing responsibility until becoming a Business Unit Director responsible for building and maintaining prime contract relations, supporting business development, general oversight of personnel.
Throughout his career, Tommy has developed exceptional technical and leadership abilities, combined with a keen ability to adapt to any environment. He holds technical certifications from Microsoft and CompTIA as well as a Bachelor of Science in Information System Security.
While not at work, Tommy resides in Anne Arundel County, Maryland and likes to spend time with his wife, daughter, newborn son, and two guard chihuahuas. On weekends you can find him around the house, Brisket on the Smoker, or playing his guitar drinking a cold beer.